It only took me 10 years, but I finally climbed at Hueco Tanks a couple of weeks back.  After climbing 6 out of 8 days and sampling a seemingly endless list of high quality problems I have only one thing to say:  it was worth the wait.
We spent 3 days climbing on North Mountain, 2 on East Mountain and 1 on the East Spur.  I tried my best not to get wrapped up in trying any single problem for an extended period of time, my main goal was simply to climb as many high quality lines in the V4-V8 range as I could.  Despite having to spend the first 2 days getting back in shape, I felt like the trip was very successful.  Some of my favorite problems included Moonshine Roof (V4), Hobbit In A Blender (V5), Meddle Detector (V6), Babyface (V7) and the one that got away, Ultramega (V8).
Since it was my first trip to Hueco it was also my first experience dealing with the well known regulations governing access to the park.  For those that are not aware, 3 out of the 4 areas in Hueco cannot be accessed without a guide.  This means you either pay $20 a day to climb with a commercial guide or you find a guide willing to take you on a volunteer tour.  It may just be a matter of false perception, but it seemed to me like the 3 restricted areas held more fun lines than those found at North Mountain, the so-called "self guided" area.  Coupled with the relatively high rate of $5 a day per person to camp and the cost of a trip to Hueco can get pretty steep.  Of course, the fact that people jump through all these hoops to climb in Hueco should be an indication of just how good an area it is.
The other thing that really struck me while wandering around the endless corridors of boulders was the vision it took to establish many of the park's testpieces.  I think that many of us could walk up to most problems under V10 and at least visualize someone climbing the problem.  Actually seeing famous problems like Nagual and Slashface in person and seeing just how improbable some of the holds are was really eye opening.  To me it crystallized why many people are so interested in reading about high end ascents, especially hard first ascents.  On a related note, Fred Nicole's amazing ticklist of FAs listed in the guidebook is amazing.
Here are a few pictures from the trip, I should have video of a few problems soon.  Click a picture to make it bigger.
Rocks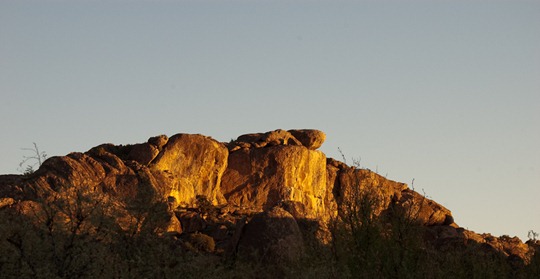 Narc on Sign Of The Cross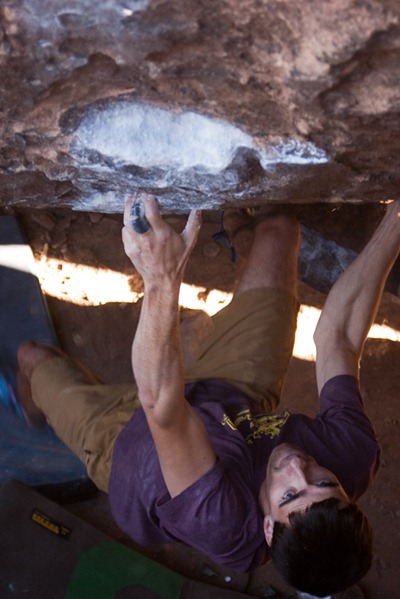 Kevin on Moonshine Roof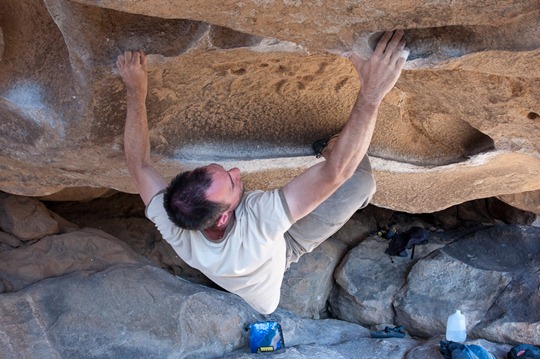 Ricky trying hard on Try Hard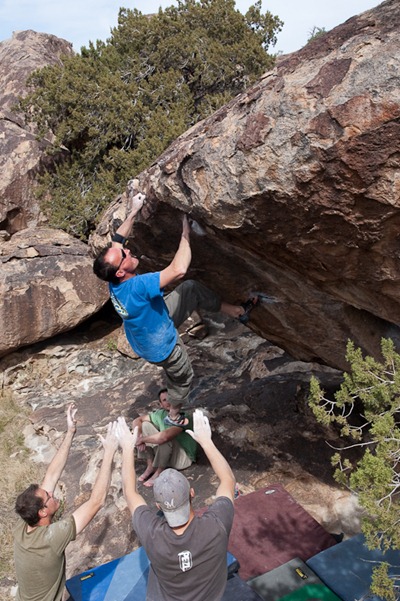 Kevin digging in on Guns Of Navarone