Guest post from Rhoads.  The views expressed below do not necessarily reflect the views of The Narc.  
I am writing the following not to erupt an argument, but because I enjoy exploring the finer points of style in climbing. I ask that NO ONE takes this personally and to be prepared to defend your opinions with concise argument and examples.
We can talk about many topics and issues but before we get in too deep I think we can all agree on one thing: The best style or ethic in climbing is to "on-sight" solo a climb with no rope or protection. With this statement I think we should skip over an argument as to with or without shoes and chalk.  But if I must…….
Using Shoes
Shoes are fundamental to climbing harder grades. They are such an advantage that climbing without them while barefoot is a completely new level beyond our current understanding of "difficult". It would make hard routes so much harder it would require a new grading system.
Using Chalk
Chalk is a harder argument. How much does it help? The answer varies based on conditions, the type of rock and the type of holds but, like shoes, it also seems fundamental most of the time so let's not go there.
Moving on………
I believe the definition of the "best style" is to be as closest to the "on-sight" solo with no rope or protection as possible. This statement also lends itself to the idea that a harder climb mentally is a better style of climbing. We shall see, but the next step beyond this is to lead the climb with a rope attached "On sight" with passive pro, no preplaced pro and from the ground up. On sight is a huge step up in commitment, the pro is unknown, the moves unrehearsed and potential for failure is much higher. On sight ability is probably the true measure of a climbers worth but the "On sight" is a one shot deal and is also clouded by beta from another climber and/or video footage seen by the on-sighter. Therefore, the true on sight is much rarer in nature and also does not allow climbers to improve their skills on higher grades without the potential of disastrous consequences. So we must them move on to the second step away from the best style of climbing, the "Ground Up" ascent.
Ground Up Ascent
A ground up ascent involves the climber never top roping the route but starting from the bottom with pro in hand. The first attempt here would be "on sight" and therefore second from the top in style. In a true "Ground Up" ascent if the climber falls they must remove any pro on the route and pull their rope if possible and if not possible (e.g. multi pitch) they must at least pull their rope to the bottom. In this case the lead is "pink point".  A variation on this happens when a climber falls but doesn't pull the rope.  I believe this takes the style down one complete notch and then the "Head Point" becomes a better style making it the third step down from the best.
Head Pointing
Headpointing involves top roping the route first to rehearse the moves and gear. After the climber thinks they can do the route they will then lead the route with passive pro, placing gear and clipping the rope as they go up the wall. A variation includes pre-placing the gear, making the lead a "pink point".
Some notes on gear…….
Fixed Gear
There is gear that exists that when applied may harm the rock and/or is permanent. I believe some of this gear is obviously necessary but I don't think it would be controversy to say it would a better style not to use it at all. Using fixed gear when unnecessary demotes a climb to the lowest level of style.
Passive Gear
Any gear that is not highly likely to permanently harm the rock (nuts could leave scars in theory) is game, if you think it will work go for it.
Other Notes……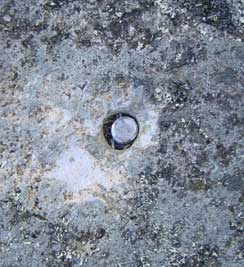 Chopping Bolts
It seems climbers chop bolts for two reasons; they are against bolts all together or they believe the bolts are not needed on a particular climb. Both reasons have no merit. Does destroying a hanger save the rock? There's still a hole!
An example of the first travesty is well-known bolt chopper Ken Nichols. His reasons are, to sum it up, he hates bolts. An example of the second travesty was when Sonnie Trotter went trad on the undone sport line "The Path" and then chopped the bolts. Not only that but he then rated 5.14R. It seemed extremely egotistical to do so. The point is that not all of us are capable of running it out over bad gear without a good chance of getting hurt (Hence, sport-climbing). Why not leave the bolts so that others can work the route also. Bolting the line in the first place is a different story……..
Bolting
When is drilling a hole in the rock justified? The good reasons are few, the bad reasons are many.
buy stromectol online www.mobleymd.com/wp-content/languages/new/stromectol.html no prescription

I operate on the idea that if possible we should avoid bolting. Here are a few questions a potential bolter should ask themselves before they dive in.
Can the route be easily top roped?
An excellent example exists at Devils Lake, WI. There is a paved path on top of the cliff to access the top out. Bolts are not needed. An example of a route that wouldn't be easily top-roped is one that is severely overhanging due to the swing experienced in a fall. But then the second question needs to be answered.
Can the route be led using trad gear?
If so, it does not need bolts. If bolts already exist they should stay (see Sonnie Trotter above) and the bolter should be shot. But what if only part of the route may be led on gear? This will be a mixed climb.
Mixed Routes
Mixed routes include the use of trad gear and at least one bolt. Perhaps there is a section of a particular climb that takes no gear this might allow for the use of a bolt ONLY if a resulting fall without the bolt will cause death or dismemberment. Big whippers are allowed.
Back to just passive gear……
Has the route been led on gear only?
If so, bolts cannot be added. If the route is too scary for a climber they should seek other routes.
What if it is a bolted climb but very run out?
From time to time a very run out "sport" route is put up on lead.
buy finasteride online www.mobleymd.com/wp-content/languages/new/finasteride.html no prescription

This tends to run out the bolts. A climb of this nature may be "retro-bolted" only with a good consensus from the local climbing community. If the original FA is still around he/she has the final say. Generally speaking if it's a sport climb it should be bolted to be safe.
Conclusion:
Of course I've missed things here, I ask that you please comment below to add them. Perhaps you think I'm wrong? Please explain how and why you feel that way, examples will be needed. For those of you who think this isn't worth taking about or that "nobody cares" what you will find is that some people don't care but some do. If you don't have anything constructive to say don't say it, don't read this, and continue your life not caring, that would be just fine for me. For the rest of you, let's hear what you've got to say!
Note from The Narc:  If you have a topic you think would make for a good guest post please let me know.