Chris Sharma has climbed a direct start to Ramon Julian Puigblanque's route Estado Critico (5.14c/d) at Siurana, Spain.  The direct start, dubbed Golpe de Estado, adds a section of 5.14d climbing straight into Estado Critico with only minor rest.  After some thought, Sharma the climbing media (with assistance from Dani Andrada) has suggested a grade of 5.15b for this new line.  You can see footage of him working this route in Dosage V.  Looks sick…and fun!
Old photo of Chris Sharma on the "rest" separating his direct start from the main part of Estado Critico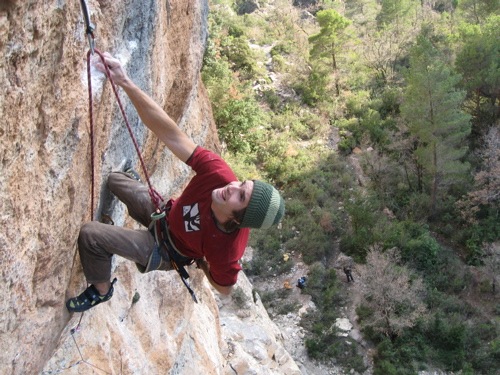 Photo:  Said Belhaj
You can (try to) read more at Dani Andrada's spanish language blog.  Daila Ojeda's new english language blog has confirmation as well.
I'm sure we'll hear more about the ascent in the coming days.
Update:  The Big Up blog has a few more details as well as a 3 minute video clip from Dosage V of Sharma working the line.  BTW, how awesome is the resolution on that video!  Very nice!