Fresh off a successful late summer sending spree in Rifle, CO Dave Graham has once again headed back to Europe.  This time he is giving a series of lectures in the United Kingdom and of course checking out some of the climbing along the way.
In the past, the U.K.'s reputation for horrendously unreliable fickle weather conditions has had a tendency to keep American strongmos from checking out all the hard climbing offered there.  Try to think of any notable U.S. climber sending any hard sport routes or boulder problems in the UK recently and you win a prize.  With that in mind, it should be interesting to see how Graham fares (provided the weather cooperates).  Odds are he will do pretty well if he has the chance.
If first impressions are worth anything, he seems to be off to a good start.  Check out the blog of U.K. photog Keith Sharples for a report on Dave's first visit to Raven Tor where he flashed a V10 boulder problem and made good progress on Ben Moon's famous 5.14c Hubble despite sloppy conditions. 
Dave Graham attempting Ben Moon's Hubble (5.14c) at Raven Tor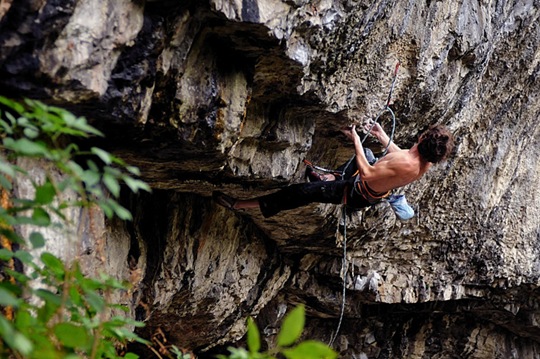 Photo:  Keith Sharple
Apparently Graham already enjoys the U.K. so much that he is considering moving to Sheffield, England?