Earlier this year, the Reel Rock Tour put out the call for people to submit videos for a chance at getting some free shwag as well as having their video appear in this year's tour.  The videos had to be under 3 minutes in length and could not be available anywhere on the internet already.  Entries were to be geared toward either n Humor/Spoof or Action/Inspiration categories.  The entries are all in and Sender Films has selected 4 finalists in each category for you to vote on.
I don't normally have the time (or ability at work) to watch videos, so when I had some down time at home the other day I decided to dedicate 30 minutes to watch all the entries.  Click the image below to see a what the 8 entrants look like on the voting page.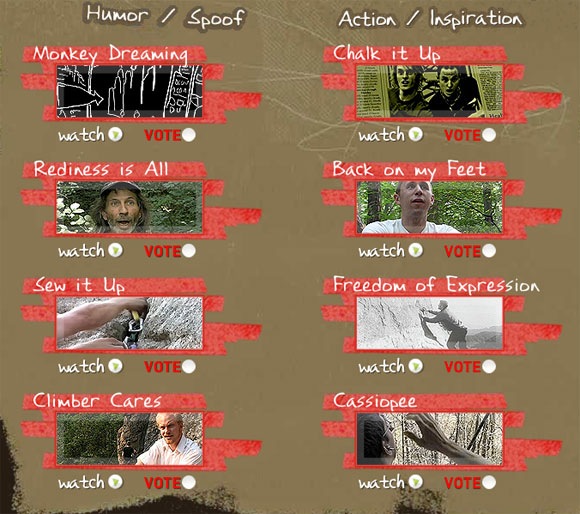 Action/Inspiration Category
I am more of an Action/Inspiration guy so that is the category I started watching first.  Frankly, I was not impressed with what I saw.  Here is a brief synopsis of each video:
Chalk It Up
People running around fighting over bags of chalk that are played off like bags of cocaine.  It was well done, but it seemed more appropriate for the Humor/Spoof category
Back on my feet
One guy's story about coming back from a terrible disease to climb again.  It was a good story with a valuable message, but the execution was not very engaging.
Freedom of expression
An interesting quote from Hemingway about why do people do things followed by footage of a guy climbing up something very non-descript.  This video was inexplicably over time as well even though the rules seemed to dictate a strict 3 minute time limit.
Cassiopee
The first free ascent of Cassiopee (5.14a) at Canada's Mt. Baldi.  Finally, some extreme sports action.
Humor/Spoof Category
After being thorougly unimpressed with the action submissions I considered not watching the comedy finalists, however I had some time to kill before work so I soldiered on.  Fortunately for my eyes, the humor entries were better.
Monkey Dreaming
A monkey flying all over the climbing world, brought to you by Renan Ozturk.  Cool visuals.
Rediness Is All
A spoof from Spencer Victory about a fictitious TV network called The Climbing Channel that spotlights the climbing at the Red River Gorge.  Quite funny and entertaining.
Screenshot from 'Rediness Is All'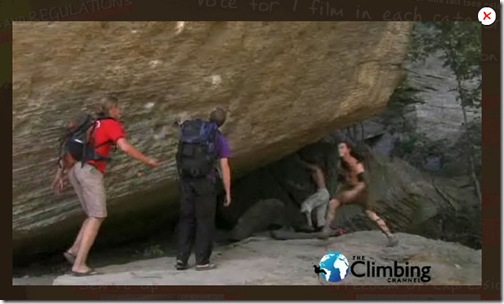 Sew It Up
A pretty funny spot about putting more gear in a crack than you could possibly imagine.
Climber Cares
A spoof of those commercials where you can donate $.30 per day to a kid in a 3rd world country.  Best line was roughly:  "For only $800 a month you can send a climber all over the world".  Pretty funny stuff.
Narc's Verdict

Overall I would say the movies were very hit and miss which is probably to be expected with amateur videos. I think that considering that this was the first year for the contest means that next year can only get better as more and more filmmakers get involved.
To me the clear winner was the 'Rediness Is All' video from Spencer Victory which is almost unfair considering the fact that he isn't really an amateur.  From the action category I sort of defaulted my vote to the 'Cassiopee' video however I was not really thrilled with any of the entries.  It would probably be better for Rock Tour audiences if they just showed two of the spoof movies instead of one from each.  Feel free to share your favorites in the comments.
Votes must be in by September 1, and the winners will be announced at the premier event in Boulder, CO on September 10.  Head over to Reelrocktour.com to vote.