Last year I made a few trips to Governor Dodge State Park to check out some of the bouldering that I had heard was there.  I found a few good problems and a lot of suspect rock.  My remark to many people at the time when asked about the bouldering at "The Dodge" was that there were enough problems to warrant a couple of trips, but nothing more than that.  Fast forward 7 months of downtime and two hand surgeries and all of a sudden The Dodge is blowing up in a big way.  Thanks to the dedicated efforts of John Freaney and others, many quality new lines have been established in recent months, and The Dodge is turning into an actual worthwhile bouldering destination for Wisconsin climbers.
With this new development fresh on my mind,  Mrs. Narc and I rolled out to The Dodge on Saturday with Kevin rounding out our crew.  Our goal was to check out the new problems since my last visit and to see if we couldn't find any new problems of our own.  Conditions weren't the best (seeping slopers?), but overall the day was successful.  Kevin and I climbed a really fun V4 called Out Past Curfew and spent a good deal of time working on separate projects on the Hangman boulder.  Unfortunately, I never charged our camera battery since returning from Yosemite so only a few pictures were taken before it died.
The highlight of the day came from Mrs. Narc.  While spying the line Mr. Longarm, I noticed an unclimbed* arete to the right that looked like it would a make a decent easy problem.  After 30 minutes of considerable scrubbing (and much more that could be done), Mrs. Narc deciphered the moves and braved the unknown at the topout to do her first FA.  She dubbed it Mrs. Shortarm because she was turned off by the incredible wingspan necessary to climb the adjacent Mr. Longarm.  This new problem is around the V-easy range and should make a nice addition to the warmup circuit once it receives a bit more traffic.
Mrs. Narc on the FA of Mrs. Shortarm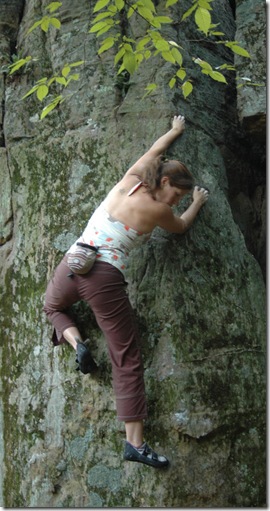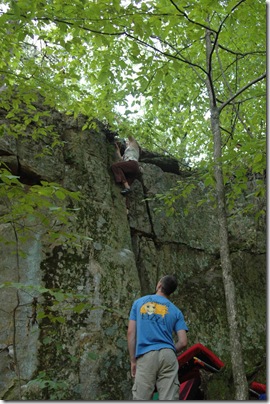 *As a small disclaimer:  With many lines at the Dodge it is entirely possible that they were climbed many years ago and then reclaimed by the moss to appear unclimbed when we come along nowawadays.