It took me awhile to get around to watching it (on my iPhone no less), but the recently released climbing movie The Outsider was well worth the wait.  It features a plethora of classic blocs from one man's 85 day stint in Fontainebleau, France (and one day in Switzerland), all shot in beautiful high definition.  The best part about The Outsider??  It's FREE.
The roughly 55 minute video is being offered for free download at the blog UncleSomebody, with donations kindly requested (but not received apparently).  You can also download the movie directly by clicking here.  Be prepared to wait though, the movie is almost 2 Gb in size.  If you are up to speed with the technology, I would recommend using the Bit Torrent link instead.  Check out the trailer:

L'Etranger – 85 days in Font from pascal brown on Vimeo.
Overall, the video is quite good and it is really not that much different from something that you would pay $30 for here in the States.  I really liked how he showed the progression of his efforts on many of the harder problems, although in a couple of instances I think he might have included a few too many attempts.  The high definition quality of the footage is also a huge plus, and it looked great even on my small iPhone screen.  Here in the U.S. I think we often times don't see enough media from Fontainebleau so this is a great opportunity to see a lot of different climbs there.
Problem List:
Aerodynamite 7B+
Carnage 7B+
La Berezina 7C
Berezina Carnage 7C+
La Balance sans 7C+
Bicep Mou 7B
Noir Desire 7C
Chatterton 7B/8A
Misericorde 7C+
Voyage au centre de la terre 7B
Gargantoit 7A+
Megalight 7B
XXX Direct/Usbek 7C
Les Nombriliste 7A+
Coup de Patte 7C
Neverland 8A
Ouzo 8A
La Coccinelle 8A
Fata Morgana 8A
La Danse des Balrogs 8A+ (Actually at Branson, Switzerland)
Partage 8A+
Gourmandise 8B
Here are a few screen shots from the movie:
La Danse Des Balrogs in Branson, Switzerland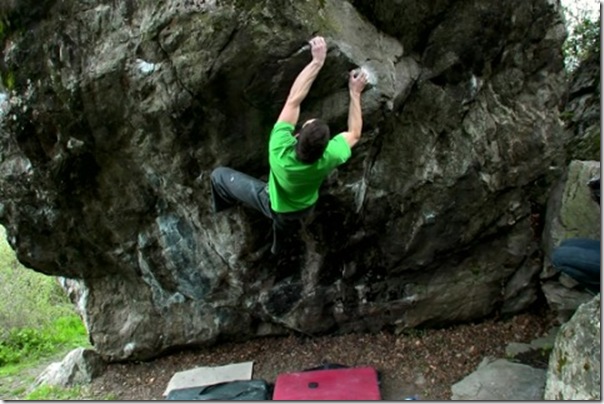 Gourmandise 8B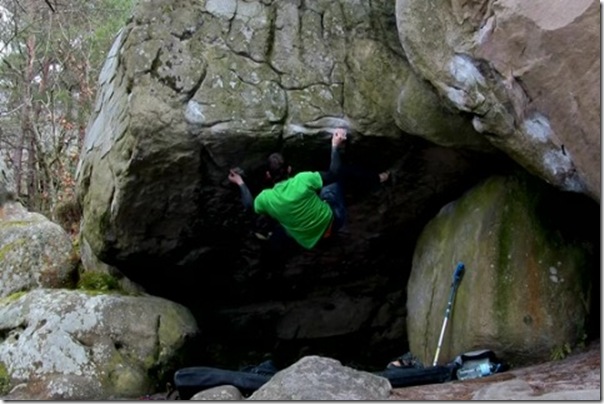 Fata Morgana – "all that work for a soft 8A"