For a long time, Mike Call has been coming up with innovative ways to bring climbing content to the Internet. The first example that I was an avid consumer of was his SmackMag project (Pro Tips, Ben Moon climbing Black Lung and more) sometime around 2000 or 2001. Along with the similar ClimbXMedia site (created by BigUp), SmackMag delivered regularly updated pictures and videos of some of the sport's best on their latest projects. These sites filled the void of waiting months for the next climbing DVD (or VHS back then) to hit store shelves. They provided a seemingly endless stream of psych for the average climber. Of course it didn't hurt that both of these sites provided all this great content for free.
Unfortunately, not long after both sites began, they both went away. Constantly creating and gathering new content proved to be too time consuming for the (financial) benefits that running the sites returned to their operators. With this in mind it was with great excitement that I saw that Mike Call was bringing the SmackMag idea back to the web earlier this year with the creation of the Momentum Video Magazine.
The initial version of the Momentum Video Magazine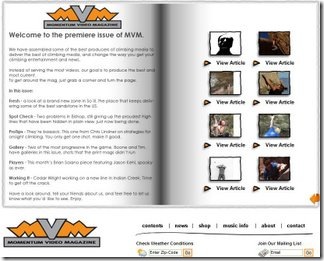 Much as with the earlier sites, Mike showcased frequently updated content from a number of contributors. This incarnation lasted for 9 months before a new design, and a new concept were introduced. The "new" MomentumVM site now offers two sections of videos. The Free area offers a selection of low resolution content while the new Premium area is a subscription based service that offers a greater variety of videos at a higher resolution. In conjunction with the videos is a new News area that features background information on the videos featured as well as other recent climbing news.
The new Momentum Video Magazine (click for full size)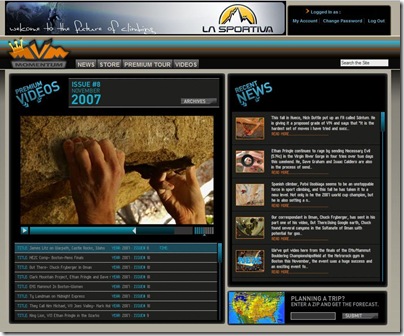 Recently I decided to check out the Premium Section myself to see what is was all about so I could share with everyone. Click below to read my summary of the costs, the pros and cons of subscribing as well as the current list of videos being offered.
There are 3 separate subscription options that are currently available for the Premium Area – (Click here to view MVM Store)
$39.95 – 3 Month Premium access and a Quarterly DVD
$69.95 – One Year Premium access (averages out to $5.83 per month)
$9.95 – 1 Month Premium access – $9.95
A few reasons you would subscribe to the Momentum Video Magazine
Chuck Fryberger's video of Rob Pizem's new alpine route near Mt. Evans, CO. A very well done short that provides high quality footage along with a rather humorous revelation that Pizem's belay on his redpoint was none other than Paul Robinson.
James Litz doing the FA of Warpath (possible V15) at Castle Rocks, ID. This is the sort of footage that you would normally wait months to see on an upcoming DVD.
Chuck Fryberger's video of the bouldering in Oman. A very cool, seemingly self shot short, that shows Chuck establishing 4 new problems in a country not many people would think of as a bouldering destination. Part 2 is yet to come.
One reason you wouldn't subscribe to the Momentum Video Magazine
Cost. It's as simple as that for most people. Either $9.95 on a monthly basis or a $70 commitment for a whole year is going to be a deciding factor that deters most people from signing up. An informal poll of Climbingnarc.com readers found that ~70% would not be willing to pay to see climbing videos online.
A few issues that bothered me but might not matter to you
Load Times. This might vary from user to user but to me the load times on many of the videos was simply too long for my tastes. I didn't do any precise timings, however I was noticing load times around 5 minutes which felt too long for videos only a few minutes in length.
Flash based site. This is both a positive and a negative but I will list it here. While the design of the site is very tight and appealing to the eye, in general websites designed entirely in Flash are harder to get around in my opinion. The flash design also makes it impossible to share a specific link to any of the actual videos.
The new MVM has been online for roughly 6 weeks at the time of this posting. Along with the 21 videos that are available for free, the Premium area features all 16 videos below (ALL videos in a higher resolution than the free area)
List of Premium Content available as of 12/18/2007 – I placed a * next to the videos I particularly liked
Dave Graham climbing Leccion 8 (5.14c) at Les Bruixes, Spain*
Ethan Pringle and Dave Graham working the "Sharma Project" at Clark Mountain, California*
Chuck Fryberger discovering bouldering in Oman*
Justin Alarcon climbing Pine Box (V11) in Yosemite
Mike Beck climbing Side Show Bob (5.13c) in American Fork Canyon, UT*
Joe Kinder climbing Living in Fear (5.13d++) in Rifle, CO*
Ethan Pringle climbing King Air (V10) in Yosemite
A feature on the bouldering in Elephant Rocks State Park, Missouri
Ally Dorey climbing The Beast (5.13a) in Rifle, CO*
Jody Hansen climbing Handi Capps (V9) and Kind Traverse (V11) in RMNP, CO
Dave Graham climbing Super Tweak (5.14b) in Logan Canyon, UT
Chris Sierzant establishing Ebola Project (V12) at Little River Canyon, AL
James Litz establishing Warpath (possible V15) at Castle Rocks, ID*
Timy Fairfield and Brandi Proffitt bouldering in Big Block, New Mexico
Amy Cockerham climbing Dead Souls (5.13d/5.14a) at American Fork Canyon, UT
A Chuck Fryberger feature on Rob Pizem's recent alpine wall FA Back to the Earth (5.13d, 3 pitches) near Mt. Evans, CO*
Paul Robinson taking a day off from running laps at the Dali Boulder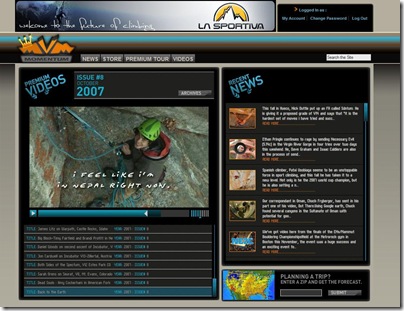 Overall the content that is offered in the Premium area is pretty good. The fact that Mike draws on a wide range of correspondents with varying levels of experience causes the production quality to vary from video to video, but for the most part they are all well done. The main benefit of this variety in correspondents is that the scope of the content is fairly diverse. Many of the videos in the Premium section were of areas and climbers that I had never really seen much footage about previously so that was a big plus.
To sum it all up, would I pay a monthly fee to watch climbing videos online? The answer is: sometimes. I would be more likely to sign up at a few different points throughout the year as opposed to having a subscription year round. While $70 is not necessarily that much money to pay for a year's worth of a service, I don't think that I am alone in that I'm not 100% comfortable spending that much money for online climbing videos. Perhaps this attitude will change over time though.
I have no idea how many subscribers there are or how much money Mike is able to make through advertising on the site. My hope is that this model works out and that he is able to feel fairly compensated for his efforts so that he continues to innovate and create new content. My fear however is that MomemtumVM will go the way of sites like Smackmag and ClimbXMedia that came before it. I think a model based more heavily on advertising revenue and less on subscription fees would increase traffic and might work out better for all parties involved.
What does everyone else think??