Ty and Jeff Landman spent the Thanksgiving week exploring some of the bouldering on the East Coast. Despite not succeeding on his main objective, Dave Graham's The Fly (V14) at Rumney, Ty managed to tick his usual number of hard testpieces with seemingly little effort. Jeff also had a good week it seems for being "out of shape". You can read a writeup about the entire trip along with a report on Ty's trip to Bishop at Moonclimbing.
Video of Jeff Landman climbing Sit & Deliver (V12)
Video of Ty Landman climbing Something From Nothing (V12)
Ty Landman climbing Child of the Storm (V13)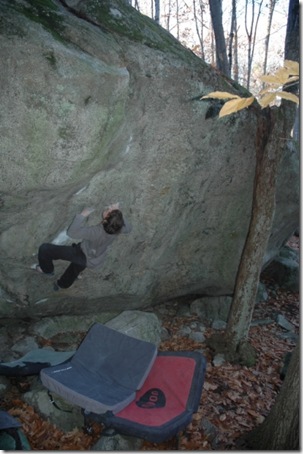 Photo: Moonclimbing
While you are there, be sure to check out Ty's excellent write-up on the recent V14 he established in Boulder Canyon which he has called Midnight Express.