Right about the time that I got injured earlier this year I heard about some bouldering 2 hours away in Governor Dodge State Park. Ever since then I've been eager to get out there to check out some of the problems and today I finally had my chance. Unfortunately, I was without multiple pads or any spotters so pictures are minimal as was my margin for error.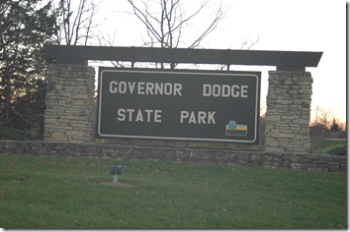 Mountainproject.com has great beta for the areas at The Dodge which gave me a few different places to check out. First up I checked out the Area B/Backbone area that is located behind the B group campsite. I imagine the scene is much different in the summer but today the entire campsite (and the whole park) was basically deserted which suited me just fine. The first problem I came across was Get The Hell Outta Dodge. My topo said V5 but it didn't look too bad so I decided it was as good as anything to warm up on.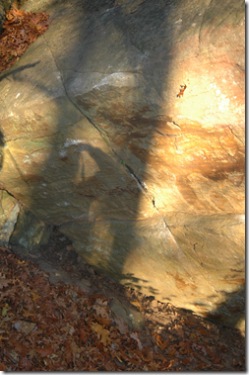 It ended up being about what it looked and the only real issue was the top out which took me 2 tries to figure out. After that I went to the other side of the ridge that the boulders jut out of where there was a higher concentration of problems. One theme became clear for just about all the problems: height. Having one pad, no spotters and having heard many stories about the fragile sandstone I was definitely aware of the possibility of taking a bad spill at any moment.
I found a few easier problem to properly warm up on, and I also felt the holds on the area testpiece Sandstone Violence (V8) that was put up late last year by Jason Huston. I ended up giving it a few tries later on and it seems like it could go with some work once I am back in form. I did a few problems on the Picasso boulder that were fun and a bit spicy along with an arete that the topo said was V6 that felt much easier (like V2). The arete problem was even spicier but it was probably the most fun problem I did at the Backbone area. Tall, technical and committing.
Directly adjacent to the Backbone is the line of boulders that make up Area B. Not much looked appealing but I gave Split Personality (V4-5) a try. After a dab getting of the ground I was able to figure out the crimpy sequence in one try which made me quite happy due to the sharpness of the holds. Pictured below, it is actually a really nice line however the holds were a bit too sharp for my liking.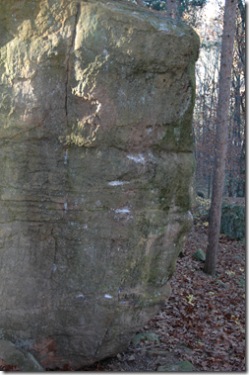 After this, I checked out Huston's Arete (V4ish) because it sounded fun from reading the description and looking at the pictures. Unfortunately I was either missing something or I'm just a sourpuss because it wasn't really all that fun. Basically just grovel and balance your way up onto some small, sharp and suspect looking crimps until you can reach a jug at the top.
After that mild disappointment I headed back to the car so I could drive over to the area that promised to have the King Line of the area: Box Canyon. Luckily this area lived up to the hype and it probably contains a couple of the best boulder problems in the whole state. First up was The Godfather (V4). It is on a massive block of sandstone that is quite impressive to climb on. Bad news for me was the landing which sloped downward which didn't give me much confidence if I had to come off up high. Nonetheless I put the pad where I figured I might land if I came off and set off. The Godfather follows a line of crimps and pockets up a somewhat steep face with super fun moves until you grab a slopey hold for the topout. Overall a superb line that was only dampened a bit by the fact that getting down was damn near impossible save climbing down a large tree.
To the right of Godfather is a line that I thought was even more fun called All in the Family (V5). It is pretty hard to describe the moves but after I got down I couldn't help but think that this was one of the most fun problems that I had done in a long long time. It had cool movement as well as all different kinds of holds along with the knowledge that falling basically wasn't an option once again due to the lack of pads/spotters issue.
Overall, I thought the Dodge was a decent area. Certainly in WI it adds a lot to the climbing that is available and I look forward to going back again to check out more areas and to put some more work in on Sandstone Violence. More pictures next time too!