Despite all of my (and Old School's) stressing, belly-aching and doomsday predictions about the weather forecast for New Paltz last week, the weather was basically a non-factor during our trip to the Gunks. With the exception of getting a late start on Friday to let the rock dry we climbed all 3 days we had planned. This doesn't mean that all day Thursday we weren't looking at the sky with dread at each belay, waiting for the skies to open. Fortunately the rain held off until we were safely on our way to eat some spectacular BBQ.
Unfortunately for the purposes of this blog I didn't take as many pictures as I would have liked because I wanted to focus on making sure I was doing everything correctly while climbing and not so much on lugging my camera around. Next time… Overall it was a fantastic trip with a lot of good memories. The climbing at the Gunks was even more fun than I expected and the crowds weren't as bad as we had expected. I always find climbing on routes with such history provides an added level of enjoyment. When you are hanging out at the belays you can't help but think what it must have been like 60+ years prior when many of the routes were first done. Really pretty amazing.
I'm not quite sure why but the mental energy required for me to place gear on trad routes is very taxing. As a result my usual obsessive memory of route beta was much fainter at the Gunks. I don't remember much specific about several of the routes that we climbed. Nevertheless, here is a list of the routes we did each day and a few thoughts on some of them:
Thursday
Horseman (5.5) – Probably more fun as one pitch but a very cool route at 2 pitches. It follows the crack in the corner pictured below until the roof and then it traverses left out onto the face.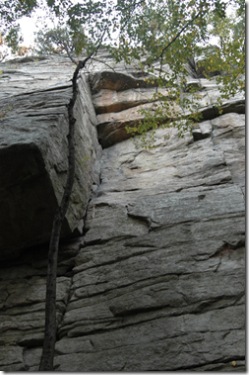 Jackie (5.5) – Really fun at the time but don't remember much else.
Frog's Head (5.6) – Got a bit lost and out of sorts on the 2nd pitch which detracted from what I am sure is an otherwise fun route
Baby (5.6) – Hard (for me) off width at the bottom to a classic Gunks roof on the 2nd pitch. I am really glad that the impending rain held off long enough to get it in.
Friday
High Exposure (5.6) – While not my favorite route that we did, it really is as cool as they say it is. My experience on the first pitch was marred somewhat when I got a tri-cam stuck right off the bat. If you clip into a tri-cam as your first piece, please send donations to Old School for a replacement. Either way the 2nd pitch was supposed to be the hyperclassic pitch, and while it didn't disappoint, it was much shorter than I thought it would be. Pitch 2 is basically like climbing Creature Feature at the Red River Gorge only you are starting 150′ off the ground, you are placing your own pro and the moves are slightly easier. Obviously a must do for anyone visiting the Gunks.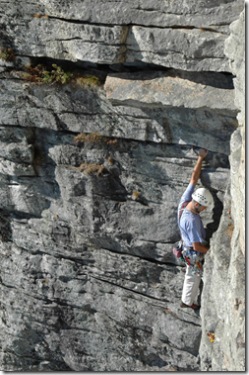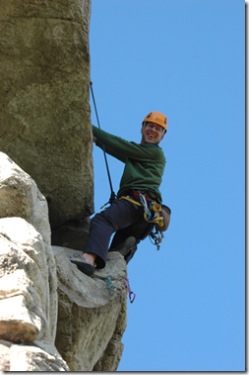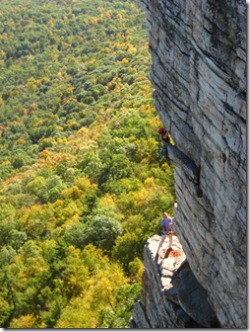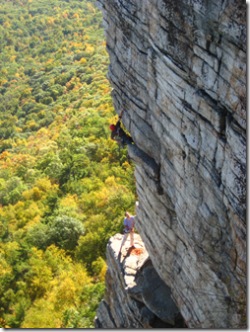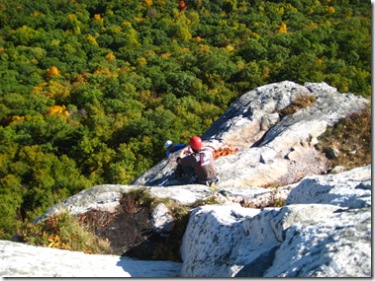 Something Interesting (5.7) – Fun face climbing to another intimidating roof. As usual the holds on the roof were good and the fixed gear was enough to gun for the chains around the roof without placing much gear.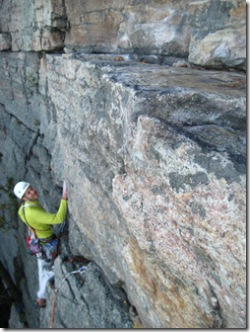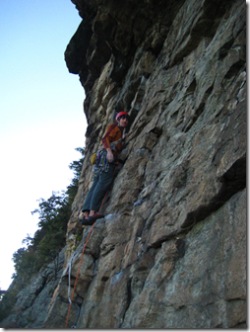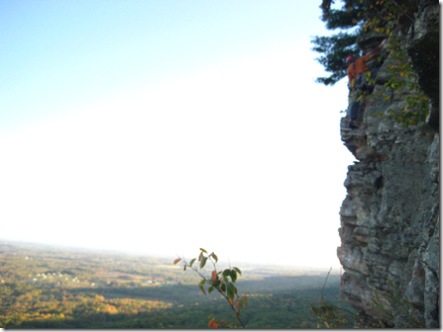 Saturday
Gelsa (5.4) – So fun we did it twice so that I could lead the 2nd pitch too. I'm not sure how there could be a more fun 5.4 anywhere that climbs out such a cool roof. Easier to do it in 2 pitches.
Disneyland (5.6) – Fun although I cruised past the belay stance to the point where I had to do the route in1 pitch instead of 2…oops.
Yellow Ridge (5.7) – More evidence that I need to work on my route finding skills. After hemming and hawing over which way to get off the ground and the best way to avoid actually climbing the off width (namely climbing on the face next to it), Yellow Ridge turned out to be probably my favorite route of trip. It would have been better had I not mistakenly ended the 2nd pitch about 20 feet too soon but the 1st and 3rd pitches more than made up for it. The last pitch goes out a classic Gunks roof where you have to get your feet way up and right above the roof with nothing but big air beneath your feet!