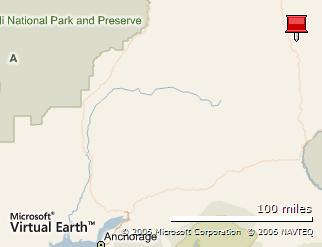 Back in High School, circa 1999, I was required to read Krakauer's Into Thin Air for an English class. The reading of this book (several times over) changed the course of my life by planting the seeds for climbing in my mind. Due to the flat nature of Wisconsin my main outlet at the time was to rock climb, but I set a goal for myself to one day experience what it is like to live in the mountains.
In the Summer of 2004, I realized this goal that I had set for myself back in High School when I took a course through the National Outdoor Leadership School (NOLS). After a cancellation of the course in British Columbia that I originally signed up for I ended up taking the Alaska Mountaineering course. I have added as many pictures as I have to my picture gallery and you can click below to read more.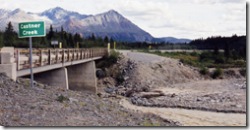 After gearing up at the NOLS Alaska headquarters in Palmer (1 hour north of Anchorage) we headed north roughly 7 hours on a school bus until we were let off at Castner Creek. After that we slogged our way East into the Delta Range and onto the Castner Glacier. One notable feature that you will notice missing from many of the pictures is snow. From what I recall the Summer of 2004 was the hottest on record and it showed.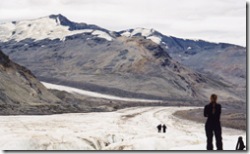 We spent about a week getting acclimated to our surroundings and learning the basics of how to live in the mountains. Despite the lack of snow it was really cool to spend time living on the bare glacier and adapting to the special circumstances that arise from this. Namely, your surroundings are constantly melting!
The weather those first 2 weeks was not really ideal as it managed to rain at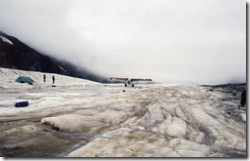 some point in just about every day. Despite this we spent quite a bit of time learning how to use crampons, ice axes and how to setup ice anchors. We even had to help create a runway for our resupply pilot. This was after a day spent with minimal food because the resupply was a day late due to weather.
After 2 weeks of spending most of our time beneath a 1,000′ tall break in the glacier we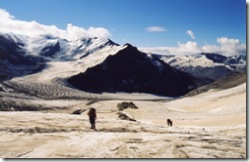 made our move to surmount this obstacle and gain the upper part of Castner Glacier. Our end goal was to traverse this portion of the glacier and descend via an adjacent glacial valley, the name of which I cannot remember.
The process of surmounting this 1,000′ climb was challenging and very rewarding. The climb took most of the day and it really put our newfound cramponing skills to the test. With our 70+ LB.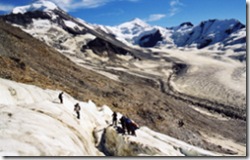 packs strapped to our backs, the crux portion took us up a steep incline that we did not have time to protect with ropes. It was a very cool feeling to be able to stick to the ice using our crampons and navigate this section safely.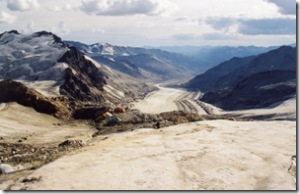 When we arrived at the top of this section we were rewarded with the best camp of the whole trip. Perched upon the 1,000′ face we had just climbed it offered spectacular views of the entire valley we had just come up. You can see most of the tents setup in the picture, but I spent as many nights as I could sleeping outside on a ledge 50 feet down the cliff from the main tents. Truly spectacular views of the incredible peak White Princess and the Alaskan landscape greeted me each morning.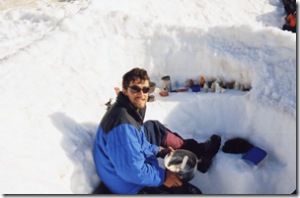 Now that we had gained a bit more altitude to about 7,000′ above sea level we finally encountered snow. This raised a new set of challenges relating to safely navigating crevasses and the like and it was really an incredible arena in which to learn. Pictured at left is me preparing the dough for our pizza in the kitchen that we spent a few hours building. It was definitely worthwhile to have a nice sheltered place to cook and hang out.
While on the upper glacier we spent a lot of time exploring and attempting to summit a few peaks. We found that our route over to the adjacent glacier was near impossible to navigate due the scarcity of snow so we resolved to return back down the same route we had used to come up the Castner Glacier. Also, we unfortunately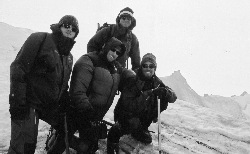 were unable to make it to the summit of any of the peaks we tried which was one of my great disappointments of the whole trip. This also coincides with my only negative from the trip: the motivation of others. I went into the trip expecting to be with 11 other people that were super psyched about mountains and the process of climbing them, but I found that many of the people didn't seem to share my same passion. For the most part everyone was great to be out there with, I just feel that I didn't get everything out of the trip that was possible. Overall it was a great trip and I highly recommend a NOLS trip to anyone that is looking to explore the outdoors in places that they normally would not be able to go.
Again, check out the picture gallery for the rest of the pictures.