Climbing.com has a great new interview up with the "King of Kings" Chris Sharma.  Filled with incredible images from his travels this past year, the interview spends a lot of time exploring what drives Sharma to continue climbing at such a high level.  Below is my favorite quote from the article.  It displays an understanding on Sharma's part of the relationship between his lifestyle and the general climbing public that is perhaps sometimes lost on other sponsored athletes (emphasis is mine):
For me now, I feel that climbing is a part of who I am. It's my way of life. It's my way of expressing myself. My way of being in the world. In the past, I questioned it a lot. Now it's obvious. This is who I am. This what I do. I'm much more aware of that now. I think about how fortunate I am to be supported by all these companies and in reality the climbing community that supports those companies. I feel so fortunate to be supported by everybody to live this life, to travel around the world and to try and raise the standard of climbing.
Chris Sharma bouldering in Venezuala
Photo:  Reelrocktour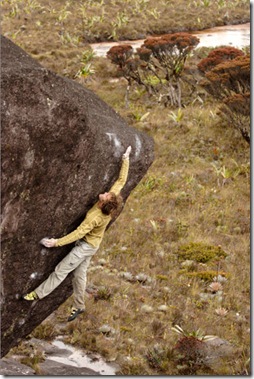 King Lines ships next week!