When most people think of climbing in Wisconsin (which most people probably don't really do) they think mostly of the toprope/trad climbing at Devil's Lake and that is about it. If you are one of these people you are missing out on some of the best climbing anywhere, let alone in Wisconsin. I'm of course referring to the route Whiskey a Go-Go (5.13a) at Petenwell Bluff in Necedah, Wisconsin.
This is probably one of the best routes that I have tried in any state and if you are anywhere near the area it is a must do. It is roughly 50 feet of intense and intricate movement.
buy neurontin online https://hospitalchiriqui.com/wp-content/themes/twentytwentythree/assets/fonts/inter/txt/neurontin.html no prescription

Words can't really do the route justice so you really just need to get on it.
buy flagyl online https://salterlewismd.com/wp-content/languages/new/flagyl.html no prescription

Here are a few pictures: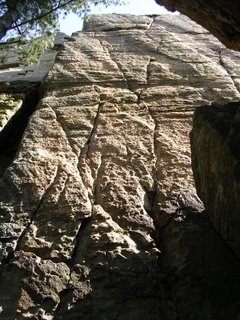 View from the base of the climb,
Whiskey
follows the two seams to half height and then climbs to the top of the bluff up the left facing crack.
Photo of Jay Knower shaking out after the crux move.
buy cipro online https://hospitalchiriqui.com/wp-content/themes/twentytwentythree/assets/fonts/inter/txt/cipro.html no prescription

From moutainproject.com