Well, Video Friday is back after a bit of a hiatus and I have to say that I much preferred what I was doing last Friday to this current one.  Last Friday was the final day of our trip to Colorado, and I had an itch to try to climb something hard* so I got an alpine start out to Lincoln Lake arriving down at the boulders around 6:30 AM.
Sunrise over Lincoln Lake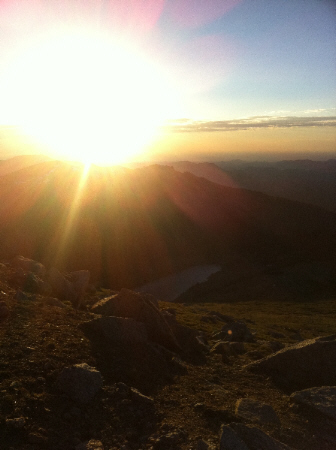 I spent the next 3 hours trying my hardest to do Kevin Jorgeson's Unshackled (V9 or 10 depending on how brave and humble you are), falling on the move to the arete on my best attempt.  In past years I might have been upset by this, but honestly I was anything but.  First of all, I was in Colorado bouldering in one of the most stunning settings imaginable.  Second, I had the entire area to myself.  Third, for one of the few times in my 12 year climbing career I actually tried putting in a dedicated effort** to try something hard on a road trip which felt really, really good***.  Besides, in the grand scheme of things the difference between falling on the last hard move and getting to the top is relatively inconsequential.  Sure, I may have gotten some sidebar action on 8a.nu, but for me the process of trying hard was, in this case, well worth it regardless of the outcome.
Sheffield Bouldering World Cup
In news from 81 climbers that could probably flash the problem I was just talking about, the 2011 Bouldering World Cup continues this weekend in Sheffield, Great Britain.  5 competitors from the U.S. are scheduled to compete and you can watch them live beginning tomorrow at 5 am EST.  Here's the full schedule:
Saturday 2 July

10.00 Qualification Men

14.30 Qualification Women

Sunday 3 July

10.30 Semi Finals Men & Women

15.45 Finals Men & Women

18.00 Award Ceremony
Video Friday
With that out of the way let's get to a backlogged set of videos.  Have a great weekend everyone!
*for me
**more than one day
***if you don't count the aching pain in my tendons from crimping so hard…a pain that persists one week later